New Jersey Chamber of Commerce issued the following announcement on Feb. 14.
The Award will be Presented at the 83rd Annual Walk to Washington and Congressional Dinner on Feb. 27
This year, at its 83rd annual Congressional Dinner in Washington on Feb. 27, the New Jersey Chamber of Commerce is presenting its prestigious Thomas H. Kean Sr. Business Leadership Award to Amy Mansue for her professional accomplishments and her distinguished service to New Jersey.
Mansue is executive vice president and chief experience officer for RWJBarnabas Health, which encompasses 11 acute care hospitals and manages the care of 5 million people. RWJBarnabas Health is New Jersey's largest private employer with more than 45,000 employees, physicians, residents and interns.
Mansue formerly served as president of the RWJBarnabas Health Southern Region for two years and was president and CEO of Children's Specialized Hospital for 13 years, where she led a team of clinicians and therapists providing specialized care for children throughout New Jersey.
Mansue, well known and widely admired, has been influential in the business community, having served as co-chair of Gov. Phil Murphy's Budget Transition Advisory Committee, chair of the New Jersey Chamber of Commerce and chair of the New Jersey Hospital Association.
"Amy's many accomplishments make her the epitome of what this career award symbolizes," said Tom Bracken, president and CEO of the New Jersey Chamber of Commerce. "In her distinguished career, Amy has used business acumen and compassion to help make Children's Specialized Hospital and RWJBarnabas Health beacons of hope. I value her friendship and insight, and I look forward to her continuing contributions to the New Jersey Chamber and to the state of New Jersey."
Mansue served as deputy chief of staff for Gov. James McGreevey and as a health care policy expert for Gov. Jim Florio. In 1993, as a deputy commissioner in the New Jersey Department of Human Services, Mansue oversaw programs for people with developmental disabilities and mental health conditions
Mansue is frequently honored and has been named by NJBIZ as one of the Top 50 Most Powerful People in Health Care, one of the 100 Most Powerful People in New Jersey Business, and one of the Top 50 Women in Business. Mansue was inducted into the New Jersey Business Hall of Fame in 2014 and the Trenton YWCA New Jersey Women's Hall of Fame in 2013. She has been recognized by nonprofit organizations for her distinguished work on health care reform, as well as for helping to improve the lives of people with disabilities.
Mansue is a member of the Rutgers University Board of Trustees, New Brunswick Development Corporation (DEVCO), Middlesex Water Company, The Fund for New Jersey and The Leapfrog Group's Hospital Advisory Committee.
Mansue received a Bachelor's degree in social welfare and a Master's degree in social work, planning and management from the University of Alabama.
Original source can be found here.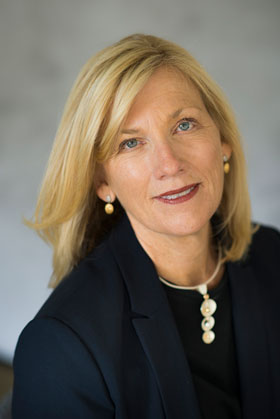 Source: New Jersey Chamber of Commerce